HANDMADE GAMES
We started work on our first game, Clay Jam, at the end of 2011. We loved making it out of real clay - it inspired us and took us in completely new directions. From the incredible reaction the game received on release, it seems as though it tweaked something inside you lovely people as well. It made us think...
WE WANT ALL OF OUR GAMES TO BE LOVINGLY CRAFTED AND ANIMATED BY HAND.
Yes we do! Whether we use clay, puppets, paper or porridge, everything in our games will be created from real things. It's CREATIVE, INNOVATIVE and FUN - all the things we want our games to be.
​
What every-day items should we use to make our games? Send us a mail.
SMALL IS BEAUTIFUL
Clay Jam was made by a small team. Everyone who worked on it had a voice and a real passion for the game, and we believe that enthusiasm shines through. We don't want people to be cogs in a machine. We want to keep our teams small and our games inspiring.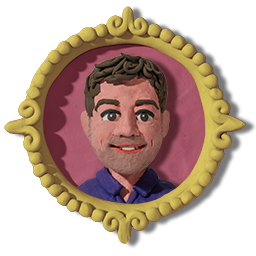 THE FOUNDERS
Iain Gilfeather
Iain has a beard. He's also technical director and can do anything - ANYTHING - with a keyboard. He has over 12 years of experience working on titles such as Pure and erm... Enochian Chess.
Michael Movel
Michael is the design director and writes lots of words, most of which everyone ignores. He's been working on video games since 1994, for companies such as Lionhead, Zoë Mode and Blitz.
Chris Roe
Chris is a man with marvellous hands. He's art director and makes everything that goes into our games, then brings it all to life. Since 2002, he's worked on titles such as Fable and Grease: The Game.
GET IN TOUCH WITH US...
​
info@fatpebble.com
​
press@fatpebble.com
​
sales@fatpebble.com
Telephone:
01273 789356
Snail Mail:
Fat Pebble
Vantage Point
New England Road
Brighton
BN1 4GW
This website and its content is copyright of Fat Pebble - © Fat Pebble Ltd. 2013. All rights reserved.